Do you often come across job adverts that look like a chaos of keywords? Have you noticed that the list of required technologies to master might be the longest part of the advertisement and you end up not applying, because of the overwhelming jungle of letter combinations? Don't worry, let's keep things simple this time!
We are looking for Quality assurance leads. A strong understanding of what high-quality software consists of and handling some of the most important tools are essential. In addition to this, we're not too bothered about a multitude of keywords in your CV because we are simply looking for professionals who have a background in software quality assurance. However, as important as the relevant background, is that you share our values and feel that our culture is a match for you.
VALA's culture is more than just inspirational quotes on screensavers and mousepads. VALA's culture is a combination of actions, attitudes and relationships, with a hint of idealism.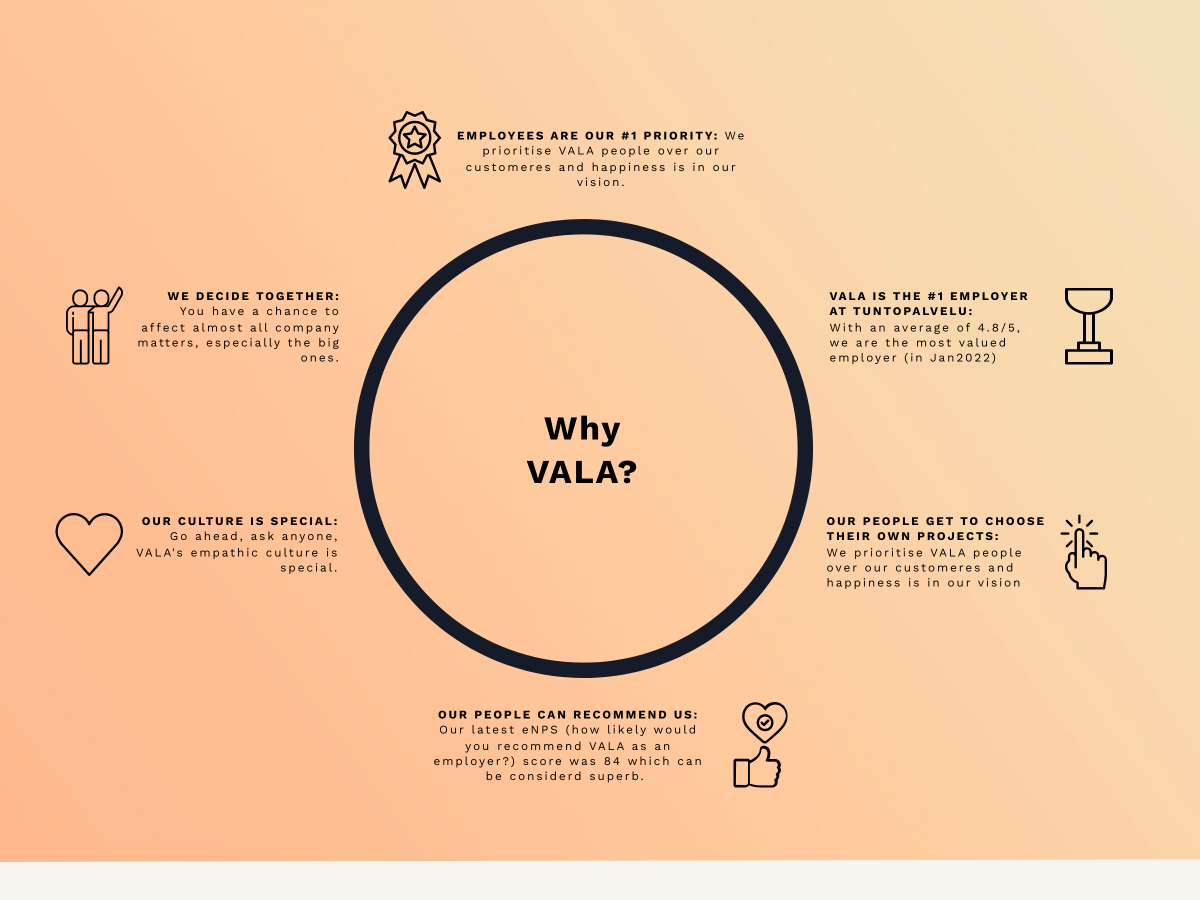 What we offer:
Meaningful work. Finding meaningful work for our people is our single most important goal.
You and your wellbeing is our number one priority, even before our customers.
An emphatic, flat hierarchy and transparent organizational culture to thrive in.
Opportunity to participate in the development of the company.
An excellent environment for professional development, e.g. annual personal education budget and mentoring.
Professional communities where we share our experiences and learn together
Lunch, phone and wellbeing benefits. We offer a 500€ annual wellbeing budget (in 2023 it's 1000€) and you can choose where to use it, e.g. sports, culture, wellbeing or commuting.
The salary level in this position will be 4150-5150 €/month depending on your skills and experience. In addition, we offer the possibility to participate in future engagement programs.
On your behalf, we compensate your annual carbon footprint based on calculations of an average person living in Finland.
Possibility to book a remote week in one of our offices in Southern Spain.
Comprehensive occupational health care services and care service for a sick child if you wish.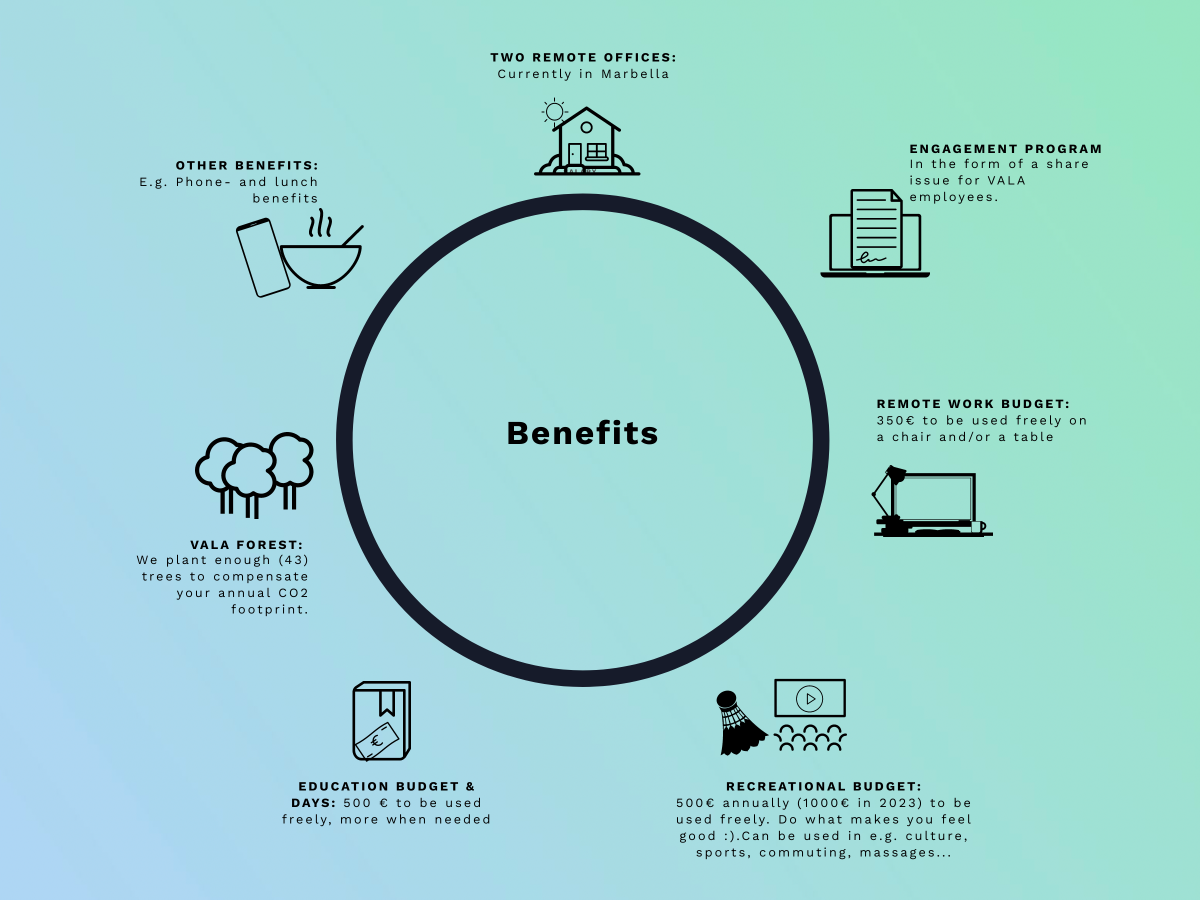 There are some attributes that we hope you to have:
You value the same principles as us: empathy and sustainability, wellbeing at the center, a self-directed way of working and a life-long learning mentality.
You are familiar with creating test plans, designing test cases, and providing guidance and support to other testers.
You have wide experience in different projects and different environments.
When helping our customers, you don't merely think about technical solutions, but also consider the aspect of enhancing culture and working methods.
You see the big picture and find the most important areas to focus on even in complicated situations.
You are flexible; can adapt to new teams, domains and ways of working quickly.
You are able to take a lot of responsibility and the courage to bring up your own observations and ideas and discuss your own and others' ideas constructively.
Good communication skills. Fluent English is required, Finnish is a plus.
Next, you might be interested in hearing more about our customer projects. We have +40 on-going projects so we can't describe them all here, but in your daily work, you could be a part of an agile team as a QA Lead or a Coach to ensure the software is developed with quality and testing in mind. As part of the team, you will have a hands-on approach to testing and you are not afraid to get your hands dirty. For example, the project can be related to B2C media services, financial services in the banking sector or medical technology aiming to create better ways to treat cancer. You can read more about our public references here: References
Our recruitment process:
Our process is lean but thorough. The length of the process is largely depending on you. If you want, we can usually reach a decision in approximately one to two weeks. Here's the process:
A culture and value oriented discussion with our people team in which we'll find out whether VALA would be a home for you where you can feel comfortable, find meaningful work, learn and flourish professionally. Moreover, we want to find out if you would take VALA culture further by joining VALA community work, improving VALA ways of working or mentoring others.
A coding test or similar for those who will need such skills in their work.
A second interview with our customer management team to figure out how VALA's customer projects match your knowledge, wishes and interests.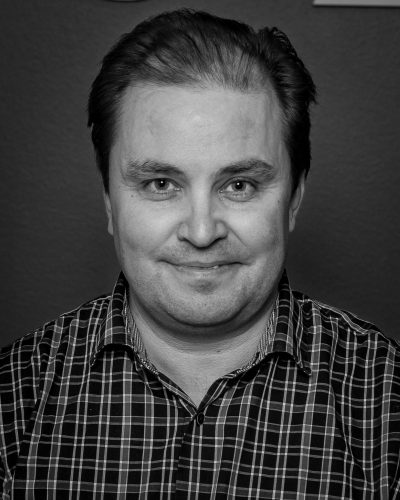 I've worked at VALA as a QA Manager / Test lead since 2017. I got into an interesting and challenging project at MTV right from the beginning. VALA is responsible for the quality of MTV digital services, so the position is appropriately challenging. Our competent VALA testing team ranging from 4 to 9 people has made the job much more pleasant and easier. At VALA, we help each other, not everything has to be solved by yourself and more resources for testing are available if needed. In my position I am responsible for the quality assurance of customer's applications. My day-to-day work varies a lot. Besides testing itself it includes e.g. planning of the testing, coordinating the testing and communication with different stakeholder groups.
This makes the work feel more meaningful to me and gives broad knowledge of the systems being tested which helps me managing the testing. As the test lead, I also get to participate in developing the customer relationship. My job requires technical ability, several years of experience in different testing positions, ability to coordinate a team and multitask. However VALA has several other projects and positions that can be operated with less experience. I absolutely recommend VALA to anyone interested in a QA Manager/ Test lead position.
– Mika, Test Lead
Mika
Test lead
Interested?
Fill your application in couple of minutes by clicking below. More information from Anni Paro (+358 50 324 7484).
Note for candidates outside Finland: We require an EU working permit.